PSCC Circumlocution Race
Saturday, April 23, 2005
The 2005 Puget Sound Cruising Club race was won by Osprey - yet again!

Course, I never saw who came in second, we were spinning
around in the light air vortexs and current eddys at Agate Pass while
Steve and Elsie tricked that other boat into going over the line first. . .

Nice raft-up with 12 boats and great food, of course!
After mostly motoring home, we actually got to sail a little more.


Click on the image below to open a "slide show"with NavButtons to move forward and back.
Clicking on a large "slide show" image
takes you to an index view of the collection.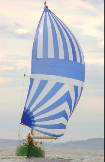 Photography Copyright Lee Youngblood 2005 All Rights Reserved