PSCC Salmon Bake

Blakely Harbor, WA
June 25th, 2005


Every year the cruising club does a Salmon bake,
sometimes with Halibut too! Back in Blakely Harbor,
at an undeveloped park, we had the crews from eleven
boats and friends who drove down. Another great feed,
and good camaraderie, we like this group!

Thanks to John Andrews for the use of his zoom lens.


Click on the image below to open a "slide show"
with NavButtons to move forward and back.
Clicking on a large "slide show" image
takes you to an index view of the collection.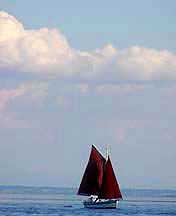 Photography Copyright Lee Youngblood 2005 All Rights Reserved