PSCC Bywater Bay
Memorial weekend trip
May 28th, 2005
We got off the dock at 5PM, just in time to share the sound with the cruise ships.
All the smart boats left with the current push, and some even sailed a little. Not us,
we fought the current all the way to the Hood Canal, motor sailing, playing the main
and the current, fighting for every 10th of a knot. It was such a beautiful evening,
surprisingly dark at 10:20, when Jerry & Sally blinded us with their decklights!

Sunday we "limed" didn't even dingy to shore, checked out Tim & Cindys new mast and
helped Steve with his outboard - that was fun learning. We headed out Monday
with the PSCC fleet, all the powerboaters heading home, and the navy sub & escorts.
I needed an aerial shot of the fleet converging at Foulweather Bluff!
Not much wind and too many wakes till we got down by the tankfarm
and the Southerly started to fill in. We got to have a great sail home!
We had a good walk, ran into Larry and heard about his fine Swiftsure trip,
Congratulations!

Click on the image below to open a "slide show"
with NavButtons to move forward and back.
Clicking on a large "slide show" image
takes you to an index view of the collection.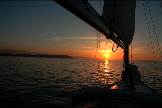 Photography Copyright Lee Youngblood 2005 All Rights Reserved