2006 Puget Sound Cruising Club
Bainbridge Circumlocation Race April 29th

We motored out into the fog, could see West Point
but not the center sound buoy, so we took a heading and sailed to it.
The fog lifted, we were late starting, but sailed up the middle, in the current.

Panta Rhei the big Apogee 52, romped up the East side with a big spinnaker.
while we were sitting on the low side flying our biggest jib, with a 1/8 inch nylon string,
when the wind started to shift. Kathleen said, "I've got a little more pressure", and I looked up
and saw the wind line. We got the real sheets back on just before it started to blow.

Larry, a 100 feet from the mark, tried to make it with his chute up, not likely.
I saw him reaching East, then running South. He was half way to Shilshole,
before they got it down. So we rounded the windward mark first,
and the 45' boats didn't pass us till almost to Agate Pass.
By then it was blowing, raining hard, and cold.

We must have had 6 boats tacking East of the Navy yard, to the finish.
I got ahead of Larry briefly, but just can't seem to beat waterline...
The "race winner" was Jake, the Hunter 45, see below.

We had a good raftup, lots of good food and company, and on the way home,
we ducked into Port Madison and sat in the sun reading, before heading back to the dock at dusk.
Good weekend with a little bit of everything.

Click on the image below to open a "slide show" with NavButtons to move forward and back.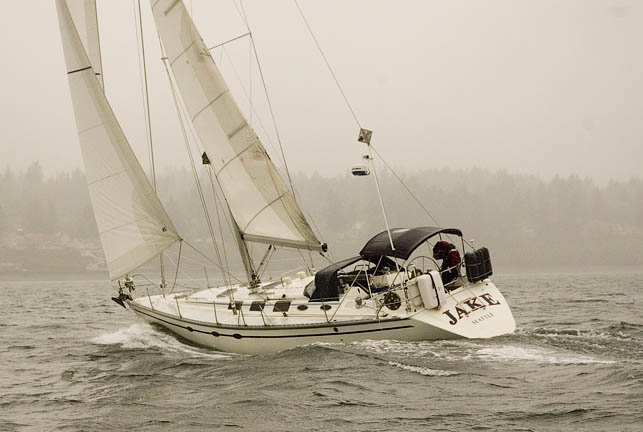 Photography Copyright Lee Youngblood 2006 All Rights Reserved