PSCC Ebby Slough Trip
A Labor Day Week-end North of Everett
September 1st-3rd , 2007
---
The cruising club planned a trip. It was on the calendar, but no one had been there!
That was reason enough to Larry and me, and Fred was in for the navigational challenge.

Kathleen wasn't so sure. Aerial photos showed only water and mud. Charts were minimal,
and dated. We had to get through the high tide log jam at Everett, but we got to Priest Point
just before a fine sunset, tying up to Panta Rhei in time for a fine shared dinner.

More folks arrived and we set off in a flotilla of dinghies to explore the slough.
You'll just have to look through the pics, to see what a fine trip it turned out to be!


Click on the Image below for the "slide show".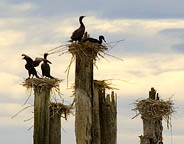 ---
Photography © Lee Youngblood 2007
All Rights Reserved
Contact Lee
Top