Manzanita Bay Trip
---
A Puget Sound Cruising Club Raft-up
March 24th, 2007
Even soaking wet, I guess I just couldn't get enough sailing. . .

After a wet winter with not enought sailing, I did the Pulley Point Race
on Rod Merry's Jeanneau 37. We are planning to do Swiftsure, so sailing
in the rain is probably good training. It was a wet race, but a good one.

I called Kathleen after the race and she wasn't feeling well, fighting a flu,
and just wanted to stay in bed. It seemed to be lighting up, so I preped the boat
and headed off to the raft-up alone. I really missed her, as I juggled
all the little jobs like removing fenders, getting the main up, and racing back
to readjust the tiller schock cords. I did a full 360, laughing and feeling pretty
silly. Course I knew I had to be careful in the puffs. The wind was back up,
and with the cruuent push I was doing almost 8 knots through Agate Pass.

I made it to the raft up as it was getting dark, just in time for the "Fiesta" dinner.
Three boats were rafted up, Phanta Rhei, Tango, Complexity, and as usual it was a feast.
Sunday, Abby went swimming - breifly, we motored home in the rain,
and before we got to Shilshole the sun and wind came back out. Thanks Bob!

Great little trip. Thanks everyone. Here's a few pics. . .


Click on the image below to open a "slide show".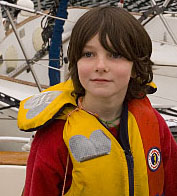 ---
Photography © Lee Youngblood 2007
All Rights Reserved

Contact Me

Top